Winners are Grinners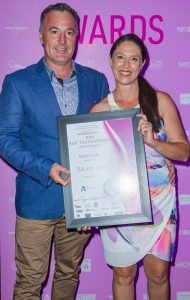 To say that we were speechless to win this year's Best in Trade Services Business and Best Tradesperson awards at the Port Douglas Business Awards this year is a massive understatement. We both had wonky knees, shaking hands and pounding hearts as we collected two plaques on stage in front of the elite businesses in the Port Douglas Shire.
We would like to thank the team at Newsport. To organise an event of this calibre each year is no easy feat, so thank you for your effort. As a business owner, the work we do behind the scenes can sometime seem endless and invisible. So to have an opportunity to be rewarded with recognition is just wonderful.
We also would like to thank the members of our own little community. Family, friends and our valued clients, both new and old. When we arrived in Port Douglas in January 2017 tasked with taking over BH Electrics from Blake, we knew we had taken on a massive challenge. And challenging it has been. What we didn't anticipate was the willingness to support and warm welcomes that we have received. Not only for Leanne and I in business, but also for our two young children. The open hearts of the Port Douglas community is something that you should all be proud of.
There is something to be said for living in a small, regional town. Yes there may be only 2 or 3 strings of separation, and yes sometimes we have to wait a couple of weeks for stock to arrive in shops. But it also presents a very real opportunity to support each other and hold each other up. It's an opportunity to form a community wide circle and clap louder when those in it are succeeding. Because we are better when we succeed together.
Winning these awards has been truly remarkable experience for my wife and I. We are so proud of our team who are out in the community representing BH Electrics every day. We love the way they show up and we love their commitment to playing at a high level on a daily basis.
Thank you so very much.
Cheers,
Brad.